Once upon a time, there was a deranged ruler by the name of holly, who persuaded a group of people that to give up chocolate during the month of January was a good thing. She and her band of Choco-Nots began patrolling the blogs and web sites of would-be Choco-Nots, aiming to swell their ranks and convince more people that chocolate-free was the way to be.




Out of this lunacy, a band of free-thinkers and chocolate aficionados raised up in protest against the Choco-Nots. The Choco-Nots deemed them the Frenemies of Choco-Nots, or Frenemies for short, and placed a price on their heads. They began publishing "Wanted" posters for known Frenemies' leaders on their blogs, and called on their minions to seek them out and ridicule them publicly for their chocolate "addiction." (Side note: we're not addicts, we can stop whenever we want to. We just think it's silly to stop such delicious behavior. So there.)




(We're not even worth a reward? How rude! It's go-time now, ladies and gentleman.)

The Choco-Nots, having been thwarted on two previous attempts at revelry chocolate-free--one at a Choco-Nots Meeting and one at an outing to the Amusement Park--began mass distribution of these posters. So, the Resistance de Chocolat met to change their appearances and discuss strategy for the next attack.

The Resistance de Chocolat has some new members. Avery and I had to enter the witness relocation program, so we look totally different, as does missburrows and leendaluu. Sybil just got tired with her look. We also recruited new members--our three children, who know that chocolate can be part of a balanced diet, Mike, Sheila, and Meleah Rebeccah.

We met at a quaint little house I owned, coincidentally just across a ravine from the Fortress of Choco-Nots. Here's our cute little cottage:



Small, but comfortable. The pygmy warriors were awaiting the return of a scout we had sent into enemy territory to do some reconnaissance.

The Choco-Not Fortress, ruled by the Kaos Couple, Camikaos and Mr. Kaos: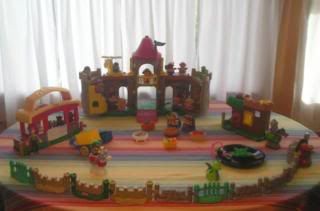 Please note the brick walls, the turrets, the stables, and the guard dragons. We have pygmy warriors and THEY have dragons. Methinks they are a wee bit overdoing it.(Paranoid much, oh Choco-shunners?)

Not too far into our meeting, our recon man returned, with specs from the fortress and pictures of the layout:



The Kaos rulers are feeding them healthy, non-chocolate food?



Clandestine meetings in the fortress--are they plotting to overthrow Kaos rule?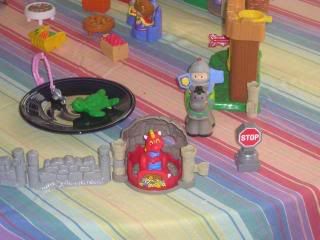 Joeprah is in armour, patrolling the perimeter with dragons? Wow, overkill much? They've got a pond, too?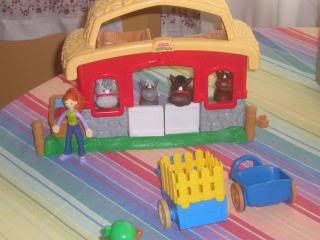 Ohhh, I see. They've gone communal self-sufficient farming on us. Looks like they've left Jo Beaufoix in charge of livestock and horses.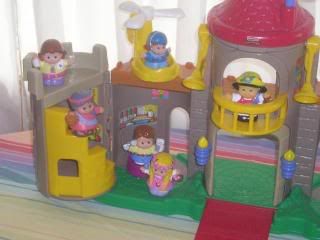 And a helicopter? Who's piloting that thing...is it Kymburlee?

We were soon to find out. Suddenly, a loud whirring of blades caused us to look skyward, to see Kymburlee 'coptering overhead!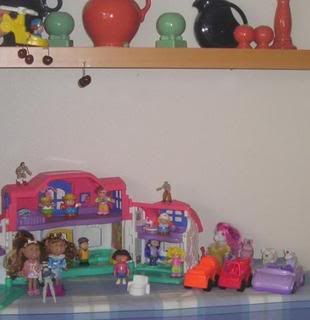 CHERRY BOMBS! HIT THE DEC...AARGGH!!



A direct hit sent our little band of resistance fighters nose-deep in red cherries, freshly picked from the (hippie-run) Kaos (Commune) Fortress. (You saw the barn and the pond...c'mon.)

Luckily, our magical chocolate-raised unicorns and our faithful chocolate labs dug us out.



While we were being rescued by our faithful animal friends, Sheila took matters into her own hands, and climbed the cliff behind our small dwelling. Using the finest grenades Dove made, she took aim at the evil Choco-Not Chopper:



And scored a direct hit!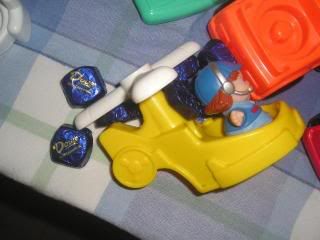 She wrapped Kymburlee up in impermeable, unbreakable chocolate wrappers, and held her as a prisoner of war.



We regrouped,


and sent this photo to the Kaos Fortress, with our declaration of war: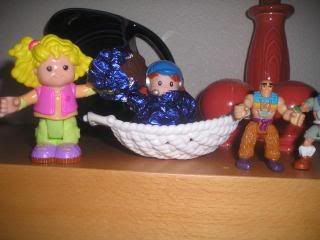 (Now, we didn't actually MAKE her eat the chocolate. It was simply available if she so desired. Interestingly enough, the Dove grenade disappeared shortly after this photo was taken and nobody can seem to find it.)

So, the Resistance prepared to move out. We kept the POCW in a portlable cell, surrounded by chocolate grenadery, again by Dove. We even put in the super-potent dark chocolate sensors; she's either secure, or she's eating her way out. Either way, we win this battle.

So, we saddled up, or gassed up, or buckled up, and made our way to Hershey Bridge to face the Choco-Nots.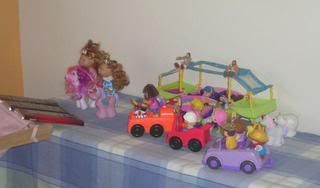 We were met on the other side by the mass assembled Choco-Nots themselves.



Avery (in pink) and I (in blue) decided it would be best if we extended the white flag and met in the middle to discuss terms of truce and exchange rates for the prisoner.



However, Amy had other plans...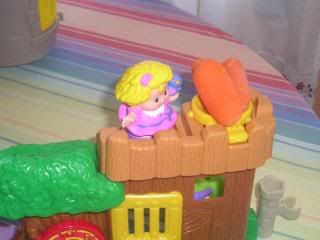 The carrot-pult shot orange crunchy missiles across the bridge and into our little band.



I heard Avery yell, "Vengeance for the fallen!" and roar like a wounded tiger...or Mel Gibson in Braveheart...



The rest of the battle was a blur for me...



I came to with some gentle Almond Roca ministrations from missburrows.



Once conscious, I asked about the battle. Grimly, she showed me some of the latest aerial pictures from the horrific scene: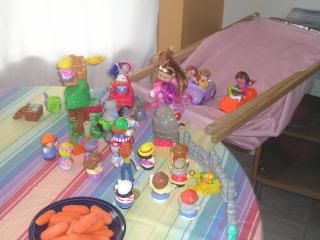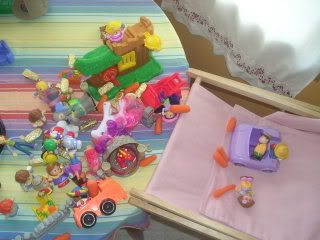 Avery managed to corner holly in the courtyard, attepting to call a truce before someone gained five pounds from all the warfare and missiles...or lost all taste for chocolate.



holly was too fast for her, and scurried up to the parapet,



where she hopped into Kymbulree's chopper and sped away....

Something tells me we haven't seen the last of the Choco-Nots.